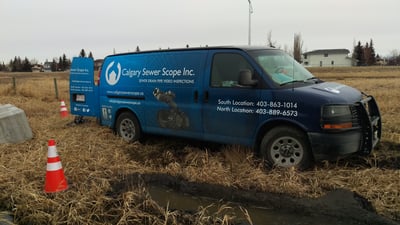 Most successful business ideas spark when you least expect them. This couldn't be more true in the case of Calgary Sewer Scope founders Jamie Hannaford, a full-time firefighter, and Nicholas Whittaker, a full-time realtor. In 2014, they were enjoying a family Thanksgiving dinner when they found themselves discussing with a guest the importance of residential sewer scope inspection prior to buying a house. By the end of the conversation, they conceived the idea for Calgary Sewer Scope and worked to bring the company to life over the course of the next eleven months. In September 2015, Calgary Sewer Scope began serving residential customers. Within two short years, the company expanded its service offerings to include municipal sewer inspections, cross bore inspections for utility companies, and pre- and post- acceptance inspections. Soon they will start offering point repair for sewers. They now have three full-time staff members and work with multiple subcontractors to fulfill the needs of their business.
The growth of Calgary Sewer Scope is not surprising given the rate at which sewer infrastructure is failing in North America, but it requires leaders that recognize what it takes to grow. The company's quick expansion can be attributed to five strategies that are visible in all aspects of the company:
1. Recognize Opportunities and Act Immediately
"We never turn down business," says Hannaford. "When a customer approaches us asking if we provide a service that we currently don't offer, we get right to work researching the business opportunity and what providing it would entail."
Last December, Hannaford and Whittaker came across an opportunity to work for a municipality doing mainline sewer inspections. However, unlike other mainline inspection projects they'd encountered, this one required PACP certification.
"We started working towards getting everything in place to run PACP-certified inspections knowing that it was what our future growth required," he says. "We bought a new ROVVER X sewer inspection camera and flew to Seattle, WA to attend a 3-day course to become PACP certified. Many people are so fixated on their current service offerings that they don't look outside to see potential growth opportunities—if you want to grow you have to think outside the box."
The results from this new service offering haven't disappointed them; in the last six months, the team has inspected 20,000 linear meters of pipe (over 65,000 feet) using their ROVVER X.
2. Go Above and Beyond
"Almost half of our business comes from word-of-mouth," says Hannaford. "The industry we work in is small and competitive, but it is also relationship-oriented. We make building and keeping those relationships a priority."
Customers rave about how Calgary Sewer Scope's crew goes above and beyond to do the job right. And if for any reason something isn't quite right, the crew comes back and makes sure the customer is satisfied.
"Many business owners get so involved in the nitty-gritty of their startup that they forget to give back," says Whittaker. "If someone needs advice, we're there to help. Being a successful business means being there for the industry and not just for paying customers."
The founders are well-known in Calgary as experts in their field and are often invited to speak on panels regarding the importance of municipal asset management and residential sewer inspections.
3. Clearly Define Your Goals
"Both of us have full-time jobs that we love outside of Calgary Sewer Scope," says Hannaford. "We knew from the get-go that we wanted to build our business with systems and processes so that eventually we could transition from being owner/operators to running the company by providing necessary leadership instead of being in the field on a daily basis."
In order to achieve this goal, it was important for the partners to focus on continued growth and recognize new business opportunities that could bring in the revenue to support a crew.
"We also had an idea of our limits in terms of marketing, so we hired a dedicated marketing consultant to take care of our digital marketing," he says.
The team says that while half their business comes from word-of-mouth, the other half can be directly attributed to their digital marketing efforts. These efforts have brought in most, if not all, of their municipal inspection business.
4. Invest in Bringing Your Goals to Life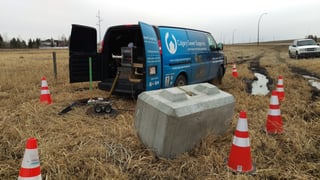 "Going into business and fueling growth requires investment," says Whittaker. "Just in the last six months we've purchased a ROVVER X sewer inspection crawler, ROVVER X SAT lateral launch system, Verisight Pro+ push camera and Quick-Lock point repair system."
Both Hannaford and Whittaker knew that if they were going to grow at the rate they projected, they needed equipment they could trust and which could grow as the needs of their business grew. In January 2017, they bought the ROVVER X system from Brad Saunders of Joe Johnson Equipment, the exclusive sales partner of Envirosight equipment for Calgary.
"The ROVVER X had a modular design so we could add capabilities such as lateral launch and laser scanning when the business need arose," Whitaker says. "It also came with onboard reporting capabilities that support PACP-certified inspections. Being a startup, this was very important because even though we could see the benefit of having asset management software, we didn't want to invest in it right away. We were able to get up and running quickly while knowing that we could add WinCan and other capabilities with ease."
5. Find Strength in Partnerships
"If you like what you're doing and you like who you are working with, you'll be a success," says Whittaker. Many people had their doubts on whether the partnership would work out since the partners were also family. However, Whittaker and Hannaford very quickly brought all the doubts to rest.
"We balance each other out and split tasks based on each others' strengths," says Hannaford. This became their strategy for hiring employees and subcontractors. They've added to their team strategically to ensure continued growth, whether it's their three full-time employees or various other subcontractors they've hired.
Another example of strength through partnerships can be seen from their decision to purchase from Brad of Joe Johnson Equipment and to invest in the Envirosight brand.
"Brad believes in relationships just as much as us and has been someone we can rely on for advice as we're growing our business," Hannaford says. "He doesn't try to sell us products that we don't need but takes time to understand our current needs and future goals and proposes solutions based on that. When we purchased our ROVVER X, we were thoroughly impressed by the equipment training hosted by Envirosight's Jim Adams. Both the service we received from Joe Johnson Equipment and the product support and training we received from Envirosight helped us come to the decision that we would continue to buy Envirosight products to help fuel our future growth."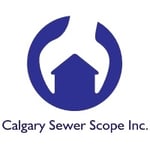 To learn more about ROVVER X and what it can do for your sewer inspection workflow, request a free on-site demo: