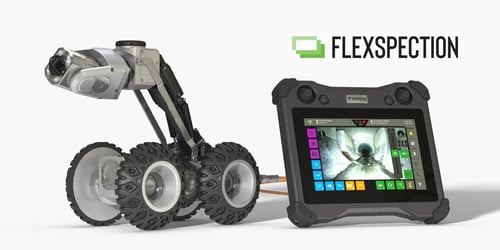 There's no such thing as a typical sewer inspection anymore. Sometimes, you need flexible data that can quickly transfer from remote worksites. Sometimes, you need hi-res images to pinpoint exact defects in a pipe. And sometimes, you need something in between. When demands vary from pipe to pipe, you need powerful technology that can keep your team on track.
Flexspection is the new flexible, unified sewer video capture platform that works for you. With three video resolution options to choose from, it empowers operators to strike just the right balance for the day to day. And it's built to adapt and change as your needs change, too.

Choose Your File Size
With Flexspection, resolution can be throttled according to your needs and digital bandwidth. Choose from three resolution options:
SD: Nimble and easy to share
720p: Robust, detailed and portable
1080p: Crystal clear and hi-res
Choose the resolution that meets your needs–your workflow, your upload capacity, your client's preferences, your data storage method, your asset management solution, your everything.
Adapt to Changing Sewer Technology
Flexspection was designed not just for today's work orders, but for your future inspection protocol, too. Using Flexspection's multi-resolution capabilities means you're ready to adopt emerging technologies like AI-assisted inspections and automated defect coding. And rolling out things like photogrammetry and on-screen feature measurement is a cinch when your digital platform is built to adapt.
Stay Versatile, Stay Compliant
Wastewater requirements for inspection can vary across cities, states and regulatory jurisdictions, and standards are changing. Municipalities need to stay up to code, now and in the future, ensuring that inspection data remains compliant and actionable. Flexspection makes it easy to adapt to changing demands and keep regulators satisfied. And contractors deploying Flexpection can easily use the same crawler and software across multiple clients, projects and standards.

Flexspection is exclusively available with the industry-leading ROVVER X sewer inspection crawler system. Schedule a demo to see it in action: