You might not believe EC Plumbing company is just two and a half years old based on the grit and confidence its crew displays.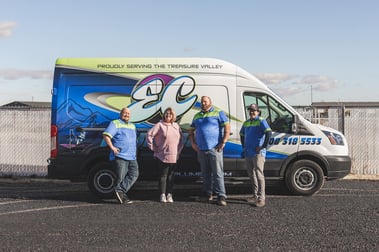 But the small team is determined to become a leader in Idaho's wastewater contracting market and actively invests in new equipment and resources to get there.
"We put a lot of focus on the social media and digital content side of our business, and we also use quality equipment and material for every job we do," says owner Nick Marsala. "Those investments helped us stand out from competitors right out of the gate."
Developing a Good Reputation
Marsala first entered the plumbing world just days after he graduated high school, working on and off in the industry since he was 18-years-old. In 2018, he decided to take the skills he'd developed and start something of his own. Inspired by his children's initials, he called his new business EC Plumbing.
Since, he's worked hard to build a name for himself in the Boise, ID area, finding ways to set the company apart. These strategies include a vibrant website and social media presence, contests and generous giveaways, and community partnerships and events, to name a few.
"No one in Idaho is really doing what we're doing," Marsala says. "There's a million plumbing companies, but we want to be viewed as more than just a plumbing company—we want to be an integral part of the community we service."
Confidence in Every Job
Part of standing out also includes caring about the equipment they purchase to do the job right, he says. Utilizing high-quality equipment has helped the crew demonstrate its value and commitment to each job.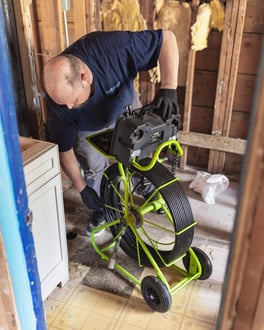 A year into business, EC Plumbing purchased Envirosight's Verisight Pro+ push camera, which they use for drain and lateral inspections and to confirm repairs—essentially anything that requires eyes underground.
"That camera is a big selling point for us," Marsala says. "We can stand behind our service better because of it. We can give our customers confidence that the clog in the drain is resolved, or ensure the Realtor that the pipe under the property they're selling is in good shape because we can actually show them footage. And it makes us more efficient. Unlike some competitors, we don't get call-backs or lose money having to redo anything because we can be confident it's resolved in the first place."
The Verisight Pro+'s digital interface displays real-time inspection footage on an 8" LCD and operators can zoom 3X and capture images from live or recorded video.
"With it we're looking for signs of deterioration, breaks or cracks, low spots, root intrusion or other issues that may be restricting flow and clogging the drains," Marsala says. "Or we may see that all the pipe needs is to be cleaned. Home renovations require an intense inspection process to determine whether or not the plumbing system needs to be replaced, so efficiency with the technology is crucial for us."
Thinking Ahead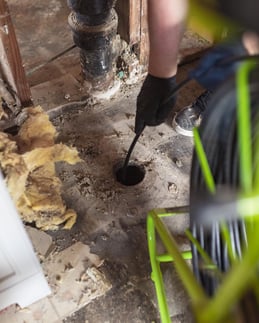 One of the main reasons Marsala initially chose the Verisight Pro+ camera was knowing it came with local support and service. Envirosight's regional sales partner, Metroquip, is located just outside Boise. And it was clear to him the equipment could open up opportunities for the company.
"It's a high-quality product that will allow us to do much bigger jobs in the future, which is something I plan to do," Marsala says. "It allows us to expand, it's a better-built product and it's backed locally."
EC Plumbing focuses mainly on residential plumbing and renovations, including fixture repair and installations; gas line repair and installations; water and sewer line repair; and tankless/traditional water heater and water softener installations.
Continued Growth
The team currently services a 50-mile radius in the fast-growing area of Treasure Valley, ID, and Marsala has big goals for EC Plumbing.
"I hope to eventually have our name all over the state," he says. "I plan to continue investing in more equipment and finding ways to be different in this industry. I'm proud of what we're doing and I'm eager to keep expanding and improving ourselves any way we can."


Learn more about the Verisight Pro+ smart push camera or schedule a free on-site demo: