Thank you to everyone who visited Envirosight's booth at WWETT 2020, the largest water and wastewater trade show in North America. It was great to connect with customers, partners and other industry professionals, and to share the new ROVVER X SAT II lateral launch system with a global audience. If you were unable to attend this year's show, here's your chance to take a look at what you missed.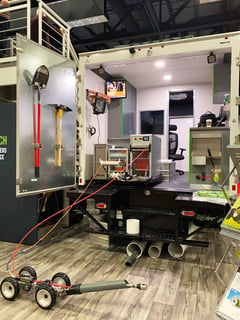 The World Debut of the New ROVVER X SAT II Lateral Launch System
The biggest highlight of WWETT 2020 was the release of the new ROVVER X SAT II lateral launch system. Attendees were among the first to see the new system in person during our daily booth demonstrations.
This system can crawl as far as 984 feet through lines, at speeds as fast as 98 feet per minute, and then launch an additional 147 feet down a lateral. Whether you're locating dangerous cross bores or identifying structural defects, the SAT II puts you in the driver's seat for the most efficient, most dynamic inspection experience possible.
---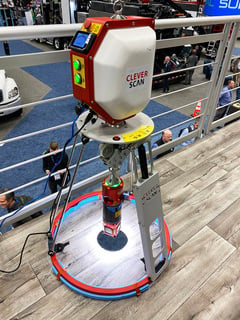 CleverScan Manhole Inspection System Scans from Atop 10-Foot Mezzanine
The booth also featured CleverScan, the automated manhole inspection system that uses 5 HD cameras and precise laser measurement. Inspecting manholes is a cost-effective way to identify sources of infiltration and structural damage. And CleverScan can assess up to 50 manholes/day and automatically populates inspection data into WinCan for easy review.
Deployed from high atop a 10-foot mezzanine lounge, attendees were able to see the system in action from all angles as the probe dropped down to the show floor and retracted back to its base.
---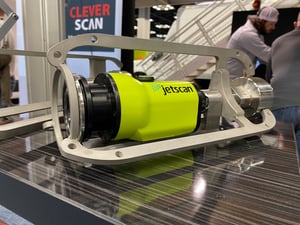 Jetscan HD Video Nozzle on Display
The Jetscan HD video nozzle made its debut at WWETT 2019 and received outstanding reviews during its first year on the market, including Environmental Protection's New Product of the Year Award.
Jetscan makes it easier than ever to clean and view sewer lines: This wireless HD video nozzle is affordable enough to put on every cleaning truck, yet quickly captures valuable footage of pipe condition for review moments later on a tablet.
---
We also owe a special thanks to two of our sales partners, Best Equipment and Infrastructure Solutions Group, which supplied inspection vehicles and equipment for the booth display. We look forward to seeing everyone again at next year's show!