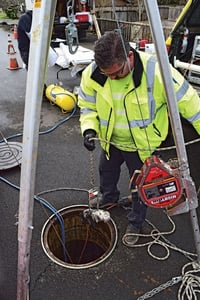 Seattle-based Trenchless Pipe Repairs (TPR) is a residential, commercial and small mainline rehabilitation contractor. TPR was founded 2011 by Nick Patrick, whose previous sewer rehab experience includes serving as CIPP Manager for Applied Professional Services, President at Insta-Pipe Inc. and CIPP Trainer for Northwest Trenchless Services. The company has carved a niche in the Pacific Northwest performing residential and commercial lateral rehabilitation, as well as sectional relining, lateral connection relining and pipe inspection for municipalities. Where new companies find it difficult to get a foothold in this industry—TPR thrives. The success TPR has experienced in the Pacific Northwest can be attributed to its comprehensive approach to rehabilitation.
TPR has made pre- and post- inspections with the Envirosight ROVVER X and Verisight Pro an integral part of its rehabilitation process. "The first part of any rehab job is reconnaissance," says TPR Crew Supervisor and CIPP Lead James Tryon. "That means inspecting the pipe to document the defects, and then properly calibrating our repair. We use inspection reports to prove the value of our work to our customers, and it's essential to our own internal quality control processes."
Having a reporting platform that is efficient and effective was key to TPR when it was first looking to purchase an inspection crawler. Tryon explains, "The ROVVER X's reporting platform sealed the deal for us. When we televise the line and enter our observations, generating a finished report is practically automatic. That report is given to the customer, but we also reference it for decisions that are essential to our work: the size of the patch, exactly where to place it, the angle of the lateral connection, whether flow requires bypass pumping, any dimensional anomalies, and how to adjust cure time to compensate for the cooling effect of inflow."
For TPR's crew, staying productive and profitable means having full inspection capability without a lot of overhead. ROVVER X solves that challenge. The crawler system's compact, three-component design stows neatly in a corner of Tryon's pickup bed, and runs off a handheld, 2,000-watt Honda generator. For large mainline CIPP outfits, it's easy to keep an inspection truck busy among several active relining crews in a single area. But for smaller contractors, inspection system portability is critical to success. Thanks to ROVVER X's compact footprint, simplified layout and modest power demands, inspection crews can inspect from any vehicle (even an ATV).
In addition to Envirosight's ROVVER X and Verisight Pro, the TPR crew also relies on a cutter from Pipeline Renewal Technologies to reinstate lateral lines.
Want to learn what the ROVVER X can do for your sewer rehabilitation workflow? Request a demo: