Being in the industry for over a decade teaches you a lot about your business, the community you serve and the equipment you need. Tailoring your capabilities to your clients' needs is crucial to success. When Advanced Underground, a Michigan-based rehabilitation contractor, needed a new lateral launch system to expand their business they knew exactly what capabilities to look for and how they wanted their inspection truck built out. So they set out to investigate at the 2016 Waste & Wastewater Equipment, Treatment & Transport (WWETT) Show.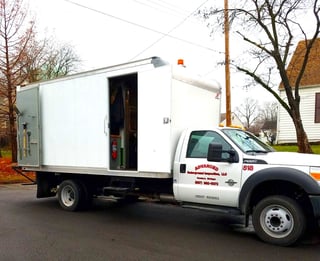 "At the show, we quickly recognized many of the SAT systems we went to see didn't have the capabilities we needed, such as being able to pan/tilt and auto-level both the mainline and lateral cameras—it was pretty disappointing," says Bob Pelissier, Operations Manager at Advanced Underground. Advanced Underground works with some of the largest lining contractors in Michigan, Indiana, and Ohio; using technologically advanced equipment has been a cornerstone to their success.
"When Dan Bell of Bell Equipment introduced us to Envirosight's ROVVER X SAT we immediately knew we'd found the system and capabilities we were looking for," says Pelissier. "The ROVVER X SAT system came complete with pan/tilt enabled lateral launch and an auto-leveling camera," says Aaron Esquibel, Project Superintendent at Advanced Underground. "Also, having a long working history with Bell Equipment and knowing they have a robust regional service and support program was the cherry on top."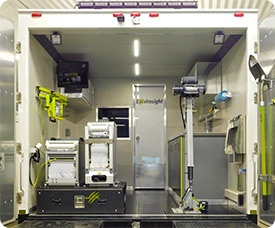 "Aaron has been in the business for over 15 years; he knew exactly how we needed our truck built," says Pelissier. "Many manufactures are stuck in the one-size-fits-all mindset; we needed to work with a manufacturer that understood that our business needs are unique." Aaron Esquibel sketched out what he needed their truck build to look like. Envirosight's Truck Build Center took care of the rest—carefully planning the build around his requirements and consulting him along the way. "I was very pleased with how our truck turned out, the quality of the build and the components used inside the truck are high-quality," says Esquibel.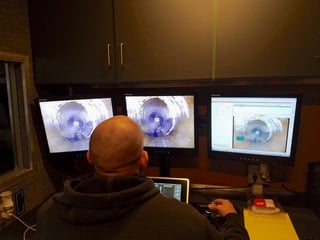 "Our ROVVER X SAT truck is out in the field everyday all day; we completely use and abuse it but it never lets us down," says Pelissier. Advanced Underground does business across Michigan, Indiana, Maryland, Pennsylvania, Ohio, Illinois, Florida and Delaware. "Components such as the MEPS (mobile electric power solution) show how much thought the Envirosight team puts into creating a high-class robust product." With the MEPS system, electrical power is generated from the vehicle's engine. There is no need to fuel and service a separate generator. "I've used many different crawlers throughout my career; the ROVVER X is very well-designed and features like the quick-change wheels add to our efficiency when we're out in the field," says Esquibel. This efficiency and being able to depend on your equipment is what has kept Advanced Underground successful since 2001.
To learn more about the ROVVER X SAT lateral launch system click below: