For inspecting manholes, CleverScan is the one system that's fully automated, standards compatible, and more productive, portable and value-driven than any other. CleverScan gives operators the ability to inspect up to 30 manholes/day.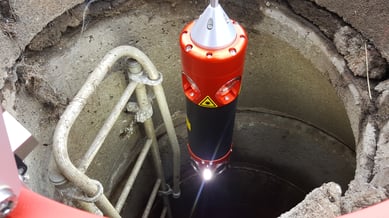 Using five HD cameras and laser measurement, it captures and presents
A detailed 360 deg image scan
A high-res 3D point cloud
Multiple virtual and schematic views
CleverScan sits over an open manhole. With the press of a button, the system's probe descends into the manhole, capturing image data using five HD cameras and building a dimensional profile using an array of four lasers. An onboard rangefinder controls descent and determines when the scan is complete. Scan data is immediately transferred to a laptop running CleverScan software, where it can be viewed, annotated and shared.
CleverScan is small enough to travel in a pickup truck or car and can be hand-carried to remote access points.