Kyle Baxter started working in the sewer inspection and cleaning industry as his grandfather's apprentice at the age of ten. Today, his company is one of the biggest sewer inspection and maintenance contractors in Iowa. AccuJet manages the maintenance, cleaning and emergency callouts for 45 cities and performs cleaning and televising for 80% of the Des Moines metro area's new developments.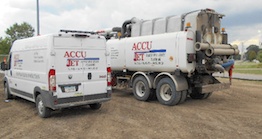 On top of sewer inspections and cleaning, AccuJet also performs CIPP liner prep for contractors, stormwater retention inspections, hydro excavation and robotic pipe cutting. AccuJet is on target to have contracts with 100 cities by the year 2020. Baxter is well known in the business community through his involvement with the chamber of commerce, and many small contractors rely on his advice while building their own companies. We asked Baxter for his recipe for success, and he laid out eight principles that have led his company to where it is, and which will fuel future growth.
Give Before You Take
"Many contractors make every sales encounter about making money. Instead, we assess if we can create a mutually beneficial relationship," says Baxter. Sales calls start with AccuJet performing a sewer health assessment for the municipality with their Quickview air HD zoom camera. They ask potential clients where they have the most issues and use the technology they own to give a quick snapshot of how the lines look inside. "This practice helps us understand our clients' pain points and formulate a strategy on what we can do to address their biggest concerns," says Baxter. "We aren't in the business of completing contracts, we're in the business of making our clients' lives easier and creating long-lasting relationships."
Keep a Close Eye on Equipment Uptime
"No matter what business you're in, your technology should support your growth goals, not hinder them," Baxter says. "In 2007 we bought our first sewer inspection truck; we quickly had to invest in four camera systems just to be able to service clients because the crawlers continued to breakdown." They needed equipment they could rely on.
"In 2012, we replaced the four sewer cameras with just one ROVVER X sewer inspection camera and our business skyrocketed," says Baxter. Today, AccuJet owns four ROVVER X sewer inspection trucks. Three of those trucks each inspect a million feet per year. "We still have the original cable reel on our first ROVVER X truck—even after logging 5 million feet on that system," he says.
Having reliable technology allows AccuJet to focus on growing. "A company is only as strong as its weakest link—don't ever let lack of core technology determine how much business you can manage," says Baxter.
Service and Maintain Your Equipment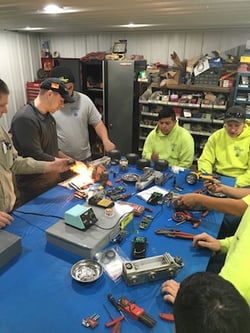 "Before buying ROVVER X, my service crew's job was to switch out working systems with ones that failed, and then send the failures to the manufacturer for repair—we just gave up and expected our systems to fail," says Baxter. Today, AccuJet has a true service and preventative maintenance program. They record how their systems are doing, and they work on repair and maintenance jobs themselves instead of sending the systems back to the manufacturer. "Envirosight's equipment is built with CANbus, which makes the equipment user-friendly and easy to update with new features and capabilities. Also, CANbus only requires 6-conductors, which makes cable reterminations quick and simple." Onsite service adds to AccuJet's bottom line as they can ensure their equipment is back making money for them quickly instead of sitting idle. Adam Perron of MacQueen Equipment Group, Envirosight's sales partner in Iowa, works closely with Baxter to make sure that AccuJet's equipment is in working order, their staff is properly trained, and that service parts and stock levels are maintained. "Having partners that believe in our business, such as MacQueen and Envirosight, has only made our position stronger in our region," says Baxter.
Deliver No Matter What It Takes
"We inspect over three million feet of pipe per year," says Baxter. "We constantly strive to do better by our clients and never settle for good enough—we strive to deliver the best." A common saying around the company is "no problems, only situations"—which means that nothing is ever difficult, it is just a new situation. Recently one of AccuJet's operators was able to complete a project that other contractors would think twice before taking on—the challenge: inspecting 10,000 feet of pipe in just one day with the ROVVER X. "We make good on our promises and deliver, that is why we get so many referrals," says Baxter. "Don't make excuses, customers can see through excuses."
Great Deliverables Get Repeat Business
"Too many contractors think their only job is to complete the job," Baxter says. "Getting hired is only half the battle. You must impress your clients with the way you conduct business, and creating a great deliverable is how you become the go-to contractor in your region." Good quality video, reports and comprehensive analysis is essential to building rapport with customers and earning repeat business. "Video quality is important to consider when creating deliverables—when you show clients your video observations they should be able to see what you see and feel confident about your findings," he says. "Our clients can't say enough about our video quality and deliverables as compared to other contractors."
Diversify Your Offerings, Be Versatile
"Buy equipment that can do more," says Baxter. "Don't allow your service offering to be limited by what your equipment can't do. We were able to sign on one of our largest customers because we were able to show them we can measure water depth using ROVVER X's measurement tool—something they said none of our competitors were successful in showing them." In addition to their ROVVER X systems, AccuJet also owns Digisewer side scan and SAT lateral launch systems.
Be Mobile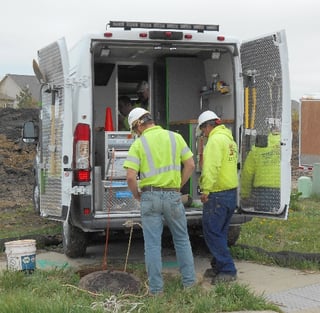 "Sewer infrastructure doesn't discriminate based on how accessible sewer access points are for trucks," says Baxter. "Be sure you can go and perform work wherever your customers require." AccuJet has a Polaris Ranger UTV to use when they need to perform work that is inaccessible by truck. "On multiple occasions, we've been able to deploy our ROVVER X from our UTV, something only possible when you have a sewer inspection camera that is compact and versatile."
Manage Processes and Lead People
"People think running a successful business requires successfully managing people," says Baxter. "I've always believed in managing processes and leading people—don't micromanage. If you have business processes and systems in place and work constantly to better them, your people and business will thrive." Learn to recognize what processes are adding costs and burdening your business, he says, and automate them. "Before we invested in the ROVVER X, we had a system that required manual cable management. When we demoed the ROVVER X we quickly recognized how much money, time and employee appreciation we would gain by having a system that automated this important task."
New contractors can learn a lot from Kyle Baxter's success. To find out more about AccuJet of Iowa visit www.accujetiowa.com. To learn more about ROVVER X sewer inspection crawlers, or to request a free in-field demo, click below: