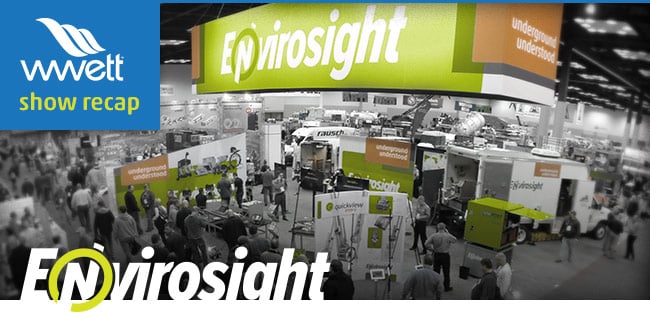 Thank you to the many customers and partners who visited Envirosight at WWETT 2018. More than 500 attendees come through our booth to check out our sewer inspection and repair equipment firsthand. Best Equipment, our sales partner in Indiana, Kentucky and Ohio, supplied both inspection trucks, and everyone had the chance to try out the new VC500 control for the ROVVER X at the demonstration table. Our sales team welcomed many guests for meetings and presentations in a vintage, decked-out Airstream trailer parked mid-booth.
Come afternoon, the Envirosight booth was once again the life of the trade show. Hospitality was in full swing on the trailer's "front lawn," and more than a few contractors, plumbers, and municipal experts enjoyed a much-needed break.
We also had the opportunity to share some of our newest products with WWETT attendees:
VC500 Control Interface for ROVVER X

The brand new VC500 controller for the ROVVER X sewer crawler is the industry's first to allow an operator to build a PACP-compliant inspection, then upload it wirelessly to the cloud for instant access anywhere, on any device with a browser. The controller also includes tools to measure pipe diameter and bend, crack size, obstructions, flow level, lateral diameter and angle, and inclination.

---

Quickview airHD+

With Quickview, you have the power to assess sewer condition rapidly and affordably. Our newest model, the Quickview airHD+, has all the features you love—wireless HD video, touchscreen tablet control, remote tilt and height adjustment—and adds:

An optional laser rangefinder accessory for pinpoint distance measurement.
Dual-band Wi-Fi for improved bandwidth and stability.
Cloud connectivity to upload and share inspections as soon as they're done.
Thanks again for making the 2018 show memorable and we look forward to seeing you at next year's WWETT Show, February 21-23, 2019.