Thank you for visiting us at WEFTEC 2015 in Chicago!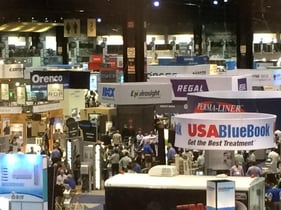 One of our favorite parts of the start of fall is exhibiting at the Water Environment Federation Technical Exhibition and Conference (WEFTEC). The 88th Annual WEFTEC was held at McCormick Place in Chicago, IL from Sept 26-30, 2015. WEFTEC draws water quality professionals and leaders from around the world.
This year Mike Vislay, Carlos Munera, Sean Lipscomb and Jamie Winters were present at Envirosight's booth. It was great meeting existing and potential customers eager to test drive Envirosight's ROVVER X, QuickView, JetScan, and WinCan VX. We also took this opportunity to demo ROVVER X's new quick-change wheels capability. Attendees were pleased to see this feature added to the already robust ROVVER X.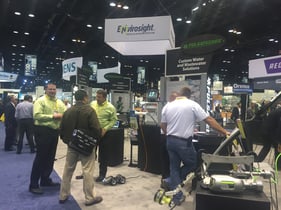 We are already gearing up to exhibit at the 89th Annual WEFTEC in 2016. The conference will be September 24-28, 2015 in the New Orleans Morial Convention Center. We are revving up our presence at WEFTEC 2016 with a booth six-times the size of our booth this year! We hope you enjoyed WEFTEC 2015 as much as we did.