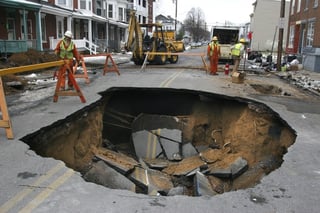 Recently, a city fire truck got stuck in a sinkhole in Lancaster City, PA. The sinkhole was caused by an abandoned sewer lateral that was not sealed off from the sewer main. The sinkhole caused a wide swath of soil about 3 feet deep to disappear under the street. Fire crews reported that damages could have been an upwards of $800,000 if the fire truck had toppled over.
Lancaster City had 46 sinkholes in 2013 and 68 sinkholes in 2014. This year there have been 114. Broken or collapsed sewer pipes, open joints in the city's water system, and the aging infrastructure are to blame for a majority of the sinkholes. The Environmental Protection Agency has projected that unless cities invest more to inspect, repair and replace their water and sewer systems, nearly half of the water system pipes in the United States will be in poor, very poor or "life elapsed" status by 2020 (www.sewerhistory.org).
Solving a problem starts with understanding the cause, and Lancaster City, PA is using Envirosight inspection technology to better assess the condition of their sewer infrastructure. With efficient, detailed inspection, cities can take proactive measures to pinpoint and address potential sinkholes. Crawlers like the ROVVER X, can be used to identify damage in sewer lines, and lateral-launch equipment like the ROVVER X SAT can be used to explore suspect laterals from a sewer main.
Get more information and a free demo of the ROVVER X system today: