While Other Crawlers Grow Obsolete, ROVVER X Grows in Capability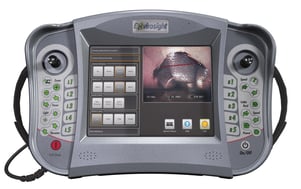 With the ROVVER X inspection crawler, new firmware-driven features are delivered automatically at no cost when the system is connected to the Internet. Yup, that's– a lifetime of free firmware upgrades. So while most CCTV inspection crawlers grow obsolete as new features enter the market, ROVVER X's embedded computer and network architecture help it evolve to meet the future.
PACP: Classify observations with the latest version of the industry-standard PACP defect catalog.

Inclination: Capture inclination data from ROVVER X's on-board sensor, then plot it on a graph.

Measurement Suite: Analyze footage to calculate pipe diameter/bend/offset, flow-level, and lateral angle/diameter.

Auto-Stop: Instruct your ROVVER X to reverse crawl and stop automatically just short of the manhole.

Self-Diagnostic: View status of every onboard sensor and component from a single page.

Advanced Exposure Presets: Camera presets give you the optimum contrast, exposure and detail for common kinds of pipe. Get the best view in any pipe, regardless of its material or color.

External Keyboard/Mouse: Interface with your pendant using any USB keyboard and mouse.
Also, if you haven't already, sign up to receive Underground Intel. This e-newsletter will keep you in the loop with the latest industry news, white papers, and other valuable information.