Patented design means you don't have to search for bolts, washers, or any tools, making your setup and clean-up hassle-free.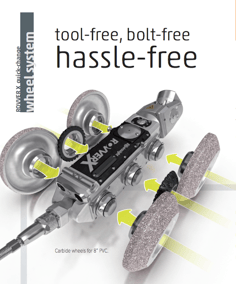 A new quick-change design allows wheels on the ROVVER X pipe inspection crawler to be changed quickly, without requiring screws, washers, bolts or any tools. To attach, each wheel is simply pressed onto a locking hub. To detach, the center of the locking hub is pressed to release the wheel. The design streamlines crawler setup and cleaning, and eliminates the risk of wheel detachment due to poorly tightened bolts.
"ROVVER X has always emphasized simple operation," says Richard Lindner, President of Envirosight. "Its cable attaches without tools, and its camera mounts with a quarter turn of a single locking mechanism. These new wheels extend that hassle-free philosophy to further simplify operation and boost productivity."
Ten wheel options are initially available: rubber wheels in four sizes, each with a tread pattern that enhances traction and smooth rolling; abrasive wheels in three sizes; and carbide wheels in three sizes. All wheels feature an optimized geometry for more ground clearance and better centering.
Quick-change wheels are available on all new ROVVER X crawlers, and the locking hubs can be retrofitted onto existing ROVVER X crawlers. Get your free, on-site demo now: