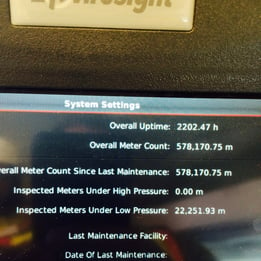 Sewer Technologies Inc. bought their ROVVER X system a little over a year ago and recently emailed to say how satisfied they are with it. They deal with some very harsh conditions and buying a CCTV inspection system that could perform under those conditions was a priority.
Sewer Technologies logged in an impressive 578 kilometers/360 miles (1,850,144 feet) over 2202 operating hours. They've only needed some superficial maintenance and have had zero downtime.
"We've had the ROVVER X for just over a year now and we have only needed one cable retermination, and we just replaced back axles on the crawler, says Chris Manners, Director of Trenchless Rehabilitation at Sewer Technologies Inc. "There has been zero downtime and that is what is important in our industry". With their annual cost-of-ownership at just 2% despite extensive and punishing use, Sewer Technologies' has achieved a level of profitability they never would have expected with any other crawler system.
Sewer Technologies Inc. provides trenchless sewer rehabilitation services to municipalities, residential customers, and construction and engineering companies. They strive to offer innovative and cost-effective sewer rehabilitation solutions to the market.