The Pipeline Renewal Technologies team was out in force at Chicago's McCormick Place convention center for WEFTEC 2019. It was a great opportunity to catch up with customers and partners, forge new connections, and learn about the latest trends in the wastewater industry. In addition, we were proud to display our innovative line of solutions for trenchless pipe rehab and inspection.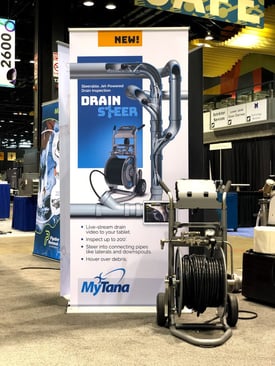 Jet-Powered Drain Inspection
The new DrainSteer™, made by the drain cleaning experts at MyTana and distributed in partnership with PRT, uses high-pressure water for propulsion, steering and cleaning as it captures live inspection video from inside lateral lines. Its novel design makes the DrainSteer uniquely able to traverse multiple bends in pipe; steer through branches and tees; and levitate above debris. These capabilities allow municipal contractors and commercial plumbers to efficiently locate failed pipes, cross-bores and blockages, and perform cleaning.
DrainSteer is fully water-driven. Six propulsion nozzles generate the power needed to pull its flexible hose, and a side nozzle on the camera can be aimed to propel it through diverging pipes and hover over obstacles. Operators can pulse an optional forward-facing nozzle to clear debris and other obstructions. The system works with any high-pressure water source, including pressure washers and combination trucks. DrainSteer's ½-inch hose comes in lengths from 115 to 190 feet.
---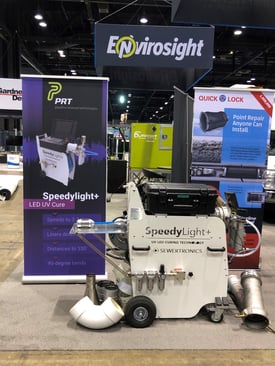 LED-based UV Curing for CIPP
SpeedyLight+ is the LED-based UV solution for CIPP that cures at speeds ranging from 0.66 to 3.3 fpm—up to five times faster than traditional technologies. Because it's compatible with felt (as well as invertible glass fiber), SpeedyLight+ can cure 90-degree bends in lines as small as 4", as well as other challenging geometries like transitions and verticals. Free of styrene and amines (and the associated odor), UV-based cure technologies like SpeedyLight+ raise fewer objections from the public and your crew. The single part vinyl ester resin requires no mixing and eliminates shelf life and working time challenges.
SpeedyLight+ uses LED lamps, drawing half the power of traditional UV technology while providing a more powerful cure. The integrated camera lets operators monitor the curing process in real time for optimal quality control. And the system's portable design allows for access to even the most remote sites, curing up to 328 feet of liner in pipe 4"-12".
---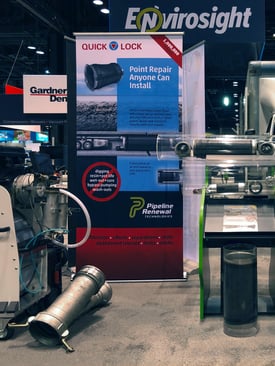 Quick, Easy Point Repair
For standalone point repair, or for pre-lining under high infiltration, the Quick-Lock sleeve offers a rapid, easy-to-install and cost-efficient way to repair failing pipe. It restores the host pipe's strength with heavy-gauge 316L stainless steel, and seals out infiltration with a single-piece vulcanized EPDM rubber gasket. Suitable for sewer, water and industrial applications, a Quick-Lock sleeve installs in minutes with minimal equipment and overhead.
Quick-Lock is positioned inside the host pipe on a wheeled flow-through packer pushed by any standard CCTV crawler. Once in position, the packer expands the sleeve against the pipe wall to structurally reinforce it, and to stop infiltration.
Quick-Lock sleeves address a variety of common pipe problems: infiltration; longitudinal and circumferential cracks; root intrusion; holes; leaks; offset joints and abandoned laterals. They are available in diameters ranging 6–28", and in lengths of 16" and 20".
Thanks to everyone who joined us at the event. We're looking forward to seeing you all at WEFTEC 2020!