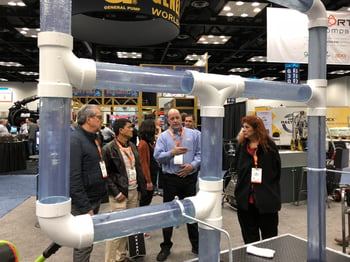 Thank you to everyone who visited the Pipeline Renewal Technologies booth at WWETT 2018 last week. We enjoyed the opportunity to see so many current and future customers and catch up with industry partners from around the world. If you weren't lucky enough to make it to the show, here's a sampling of what you missed:
Nick Sebastian, our Eastern Territory Account Manager, leading a presentation about Franklin Township, NJ's use of QuickLock to perform point repair pipe rehabilitation in-house.

A live demonstration of CleanSteer's ability to propel itself through the tees and bends of a custom-built labyrinthine pipe display (right).

Plentiful refreshments from our parent company and booth partner, Envirosight.

The chance to see some of our many products in person, including IST lateral cutters, IMS mainline cutters and VeriCure
Powerful Cutting in Tight Spaces.

Small-diameter IMS cutters provide powerful air-driven cutting and milling capability in drain lines. With automated inchworm-style movement, extended range and multiple axes of articulation, these cutters deliver precision and productivity.

Feel Confident in Your Cure.

VeriCure provides peace of mind when installing CIPP. It monitors cure temperature continuously along a liner during installation, ensuring no area goes undercooked, while saving the time and expense associated with over-cooking.

Expedite Point Repair with Quick-Lock.

Positioned by a crawler and expanded pneumatically, the Quick-Lock sewer rehab sleeve provides structural, trenchless pipe repair with heavy-gauge 316L stainless steel, as well as infiltration abatement with an EPDM rubber gasket. Quick-Lock repairs longitudinal cracks, holes, separated joints, abandoned laterals, and much more.

Clean and Inspect in a Single Pass with CleanSteer.

Using powerful water jets for propulsion and steering, CleanSteer maneuvers around obstacles and through wyes as it inspects and cleans drain lines. It traverses multiple bends in lines as small as 2".

IST Robots Provide Powerful Mainline Cutting.

Whether prepping for relining or reinstating laterals afterward, IST mainline cutters provide the power and uptime you need to cut heavy coupons, grind offsets and protruding taps, and remove heavy roots and calcification. They handle lines up to 28" diameter and travel up to 660'.
Thanks again for making the 2018 show memorable. We look forward to seeing you in Indianapolis for next year's WWETT Show, February 21-23, 2019.