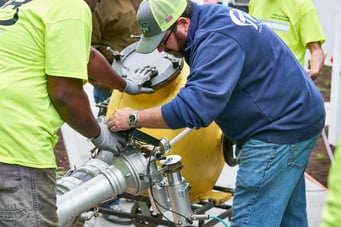 A Pacific Northwest-based leader in sewer pipe rehabilitation is no stranger to innovation. This regional branch of Vortex Services, known formerly as Trenchless Pipe Repairs before its acquisition in January 2020, has been taking on unique projects big and small since opening shop in 2011 in Sumner, WA.
Because it keeps busy completing municipal, commercial and industrial projects across Washington, Oregon and California, Vortex Services understands the importance of having durable, effective and efficient equipment that will serve its business long-term.
SpeedyLight+ Demo
Recently, Vortex Services decided to try out SpeedyLight+, the LED-based light-curing technology for small-diameter lines. The crew was tasked with curing a 100-foot-long, six-inch diameter pipe outside of a newly built, multi-family residence in Seattle. PRT's Business Unit Manager Steve Webster joined them for the demo.
The relining process involves inverting or pulling a resin-impregnated felt or fiberglass liner inside the degraded pipe and inflating the liner against the inside walls. To cure and harden the liner, it is exposed to a specific wavelength of light.
LED Light-Cure Advantages
The advantages to LED light curing compared to more traditional curing methods like hot water and steam are numerous, Webster notes. LED light curing is less disruptive because it requires a smaller footprint when performing trenchless repairs, with no large trailers or trucks blocking roadways. In addition, the process requires less time and consumes less energy than most other options.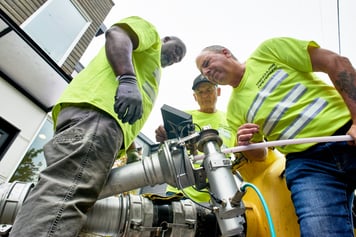 "This can be done in an hour, compared to days of interruptions and sidewalk tear-ups—and then the reconstruction," Webster says.
Nick Patrick, the National and Global Product Manager at Vortex Companies, says the SpeedyLight+ will come in especially handy when his crews are working on projects with short deadlines. Because they focus on industrial and commercial markets—repairing pipes for places like hospitals and shopping malls that may be open 24 hours a day or close for minimal time—being able to complete the work without having to relocate occupants is ideal.
"The effectiveness and the speed of the cure is what allows us to do those types of projects," Patrick says. "It opens it up a lot more for those types of industries to get in there and rehabilitate without having to shut down—because they don't have the ability to shut down."
Minimizing Risks
LED light curing also eliminates some of the safety and quality risks, Patrick says.
"It takes a lot of safety factors out: mixing of resins, training operators. It takes out the boiler system—people getting burnt, dealing with water coming to the sites. Now we are just dealing with air and light," he says.
Because the SpeedyLight+ uses a single-component resin, the risks associated with mixing resins are also erased, and any extra resin can be saved for future use. Roughly 15% of the mixture goes to waste with other curing methods, Patrick says.
Greater Control
The control over the curing process with the SpeedyLight+ is another stand-out difference, Webster says.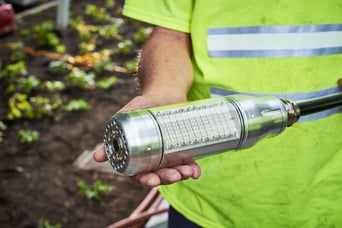 "With your typical steam or hot water, when you start curing it's like a fuse—it goes to the very end, you have no control. So if there's something wrong in the middle, there's no stopping it," he says. "With this, you can turn the light on and off any time you want to stop the cure and restart it."
The SpeedyLight+ camera head is able to show operators what's happening underground every step of the way, giving them the ability to control the speed and accuracy of the curing process.
"That's one of the nice features about UV. There's no rush," Patrick says. "You're getting the job done. You're monitoring everything you do."