Not all light-cure technologies (UV and otherwise) are created equal. Illumination source, wavelength, intensity, motion, heat and other factors impact performance in a variety of ways. Here we benchmark PRT's SpeedyLight+ (small diameter) and LEDRig (large diameter) against competing light-cure technologies.
It should be noted that all technologies compared here offer the benefits of light cure, which include no mixing, no styrene, faster cures, extended working life and shelf life, and the option for remote or on-site wet-out.
Small Diameter
Here, we compare SpeedyLight+ to a competing LED-based technology. Small-diameter applications present challenges to which SpeedyLight+ is particularly suited: bends, transitions in diameter, vertical orientations and indoor deployment.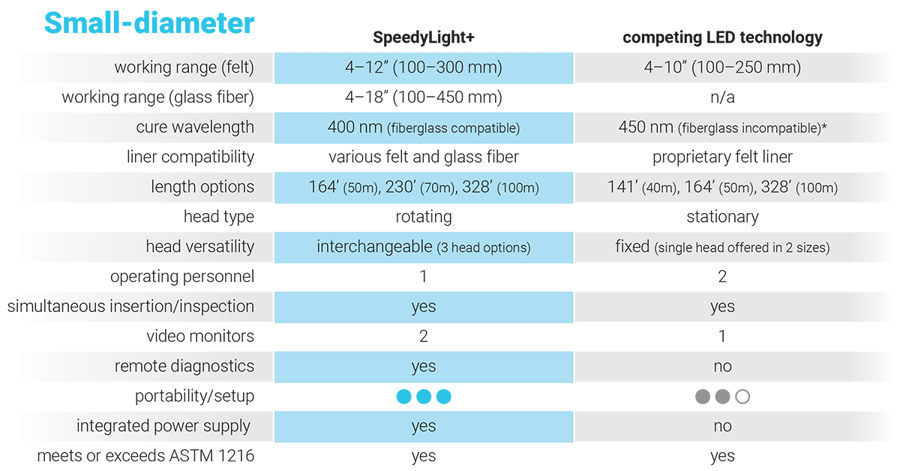 "Compatible" in this table refers to the ability to cure most common pre-impregnated glass-fiber liners on the market.
Large Diameter
For large diameter applications, we benchmark PRT's LEDRig product against lamp-based UV, as there are no alternative LED-based technologies for large-diameter CIPP.

The information above is available for download as a reference page. Ultimately, choosing a light-cure technology takes careful research followed by field trials. If you're ready for a field trial of SpeedyLight+ or LEDRig, simply click below and enter your information—we'll be in touch to schedule one!