As 2019 comes to a close, PRT is taking a look back at the changes and the growth it experienced over the past 12 months. This year's biggest highlights include welcoming new faces, launching products and providing valuable industry resources for our customers.
---
SpeedyLight+, the Industry-changing UV LED CIPP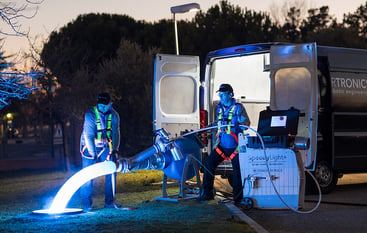 In February, PRT launched the all-new SpeedyLight+ system. The LED UV light fast-curing technology for CIPP helps achieve higher cure speeds, reline bends and transitions, and avoid styrene and mixing.
LED UV curing offers many advantages over traditional methods like hot water and steam. The process is less disruptive to surrounding areas because curing is faster and odorless. The absence of styrene also makes relining safer for workers, and LED light results in a stronger cure and uses less energy than previous UV technologies.
---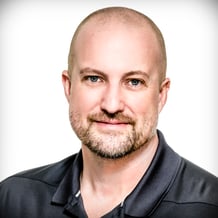 PRT Welcomes Jerry Schroeder
Jerry Schroeder joined PRT as the midwest territory account manager in August. Schroeder has over 10 years of experience in the municipal equipment industry and previously worked with Envirosight, PRT's sister company in the inspection industry, and its sales partner Best Equipment.
Specializing in product demonstrations and instructional classes, Schroeder has been actively working to build his expertise in PRT's products while covering a large territory of 14 states. His greatest success so far has been a 50-sleeve Quick-Lock sale in the Midwest.
---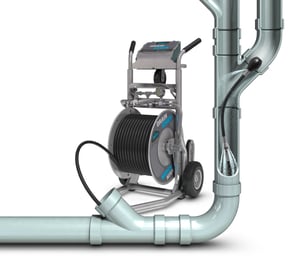 Introducing the DrainSteer Camera
DrainSteer combines water propulsion, steerability and powerful jetting to clean and inspect drain lines simultaneously. With six thrust nozzles driving the camera as far as 200' into lines, and a steering nozzle to help it navigate through junctions and hover over debris, the system saves time so you can complete more projects.
Both a jetter and camera, DrainSteer flushes away debris for a clearer view and live-streams video to your tablet so you can immediately diagnose pipe condition.
Its maneuverable design climbs vertical stacks and navigates turns and bends.
---
Professional Resources: Growing with the Government
This free white paper helps sewer rehab and inspection businesses bid on and win government contracts. When it comes to landing big jobs, the bidding process is many companies' largest hurdle. This resource from PRT was created to help contractors with expert insights and advice, from evaluating solicitations to breaking down the nuts and bolts of bids.
---
Thanks to the many PRT customers, partners and team members who made 2019 a successful year. Here's to a new decade!